Digitaria Pauciflora
Jennifer Possley, M.S., GIS Technician/Field Biologist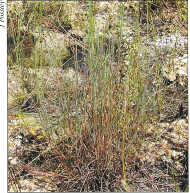 Clump of Digitaria pauciflora during the wet season, showing habitat and bluish cast. Note that it can be hard to find in a sea of grass!
Long ago, one rebellious sister in the crabgrass genus decided to quit her weedy ways. She diverged from more than 200 other Digitaria species (congeners), settled in a remote Florida swamp and traded her hardiness for beauty. She grew tall and acquired a bluish sheen. Her new growth sported soft, fuzzy hair; her old growth, a distinctive zig-zag, checkered pattern. She became so attractive that she didn't feel the need to produce as many flowers. Because she loved the swamp so much, she never bothered to venture out to other lands, even though human alteration of natural water levels has recently given her much cause for concern.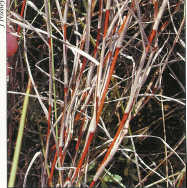 Distinctive checkered pattern of older growth in Digitaria pauciflora during the dry season.
Fairchild's conservation team has recently turned its attention to the native crabgrass Digitaria pauciflora, which is Latin for "few-flowered fingergrass". This grass is found only in Everglades National Park's Long Pine Key - an area less than 30 square miles referred to as a "key" because, just as the Florida Keys are surrounded by ocean, Long Pine Key is an area of solid ground surrounded by a "sea" of saw-grass (Cladium jamaicense) marsh.
Long Pine Key and the rest of the Everglades have suffered from abnormal hydrology since the late 1940s. At that time, Congress authorized the Army Corps of Engineers (ACOE) to effectively drain South Florida, in order to reduce the risk of catastrophic flooding and to enable farmers to grow crops. The long, meandering Kissimmee River was transformed into a drainage canal for Lake Okeechobee, and the Everglades in turn received less fresh water and more pollutants. As decades passed, it became increasingly apparent that this massive alteration of the natural system was harmful not only to the plants and animals of the Everglades, but also to humans, who rely on the park for drinking water. Last year, the ACOE began a new project: restoration of the Everglades which is expected to take three decades and millions of dollars to complete. We hope it will improve the health of the Everglades and all the organisms that depend on it.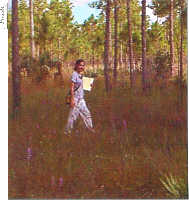 The author surveys for Digitaria pauciflora in Long Pine Key.
Fairchild's conservation team is interested to learn how the rare and little-studied D. pauciflora is faring in the face of such massive water-level changes. The first step in this new project has been to conduct initial location surveys for D. pauciflora with the help of the Institute for Regional Conservation. We use GPS (Global Positioning System) technology to map the plants in order to better plan our study. We always look forward to these survey days because they give us an excuse to visit Long Pine Key, where we've encountered picturesque fields of blazing star (Liatris gracilis) and goldenrod (Solidago stricta), both of which bloom in the fall; the striking fuchsia flowers of the endangered morning glory (Ipomoea microdactyla); and wildlife such as roseate spoonbills, tortoises and water moccasins.
When our surveys are complete, we plan to study the plant associates of D. pauciflora in order to better identify its natural community. We hope this will be the beginning of a long-term research project that will provide us with information to guide successful restoration projects. Additionally, we hope it will allow the use of D. pauciflora as an "indicator species", enabling us to observe responses to water level changes. We think we have been wise to choose this comely crabgrass as our liason to Long Pine Key, and we look forward to a long relationship with her.
Garden Views Spring 2002